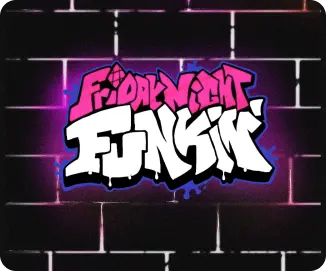 Download Friday Night Funkin [FNF]
Friday Night Funkin' is a music game that you can play for free. Download FNF on your own device and have fun!
FAQ
What is Friday night Funkin' - FNF?
Open-source rhythm game released in 2020, developed by ninjamuffin99, PhantomArcade, Kawai Sprite, evilsk8r.
What is Friday Night Funkin storyline?
You will play Boyfriend(bf), who is trying to date his beloved Girlfriend(gf). Dad of the girlfriend ex-rockstar, Daddy Dearest, trying to interrupt their dating. He invites the guy to participate in musical rap-battles to prove that he is worthy of gf.
FNF gameplay and how many weeks are there?
The game consists of 7 weeks. Every next week, the boyfriend meets tougher opponents, after going through all 7 weeks, BF will go on a date with a girlfriend.
Is FNF (Friday Night Funkin) a free game?
Friday Night Funkin is freeplay game, like all the FNF mods on our site. In order to play, you only need a browser and internet.
Where is FNF available?
FNF works online in a browser running on a mobile phone or computer. To play offline, you can download and install FNF on any popular operating system: Windows, macOS, Linux, Android, iOS.
How to play Friday Night Funkin?
You need to listen to the rhythm of the music and press the necessary buttons on the keyboard in time, which are displayed on the screen above your Boyfriend. Control buttons: Arrow Keys - WASD - Enter.
Is there an age limit for players in FNF?
FNF has no age restrictions, but the recommended age is 13+